Creation of a commercial advisory capability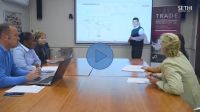 TRADE Research Advisory (Pty) Ltd, which is TRADE's commercial advisory arm and a spin-out company of the NWU, provides strategic and practical assistance to government entities and business concerns in optimising their regional or global presence, from the perspective of economic development and/or export expansion. 
TRADE Advisory's flagship offering is the TRADE-DSM (Decision Support Model) Navigator® which is an analytical tool that identifies realistic export opportunities for both export-ready and active exporting companies that wish to expand their sales reach into foreign markets.  Part of the value in the TRADE-DSM® (video) lies in its ability to offer alternatives to exporters that are facing saturation and/or declining growth in their traditional markets.
The TRADE-DSM™ methodology (developed by the NWU TRADE research entity) takes into consideration all possible worldwide product-country combinations and, using four filters, systematically eliminates less promising markets until those with the greatest prospects of success are revealed. 
Filter 1 of the TRADE-DSM® assesses countries from the point of view of their political and commercial risk, and macroeconomic stability. Filter 2 assesses the market potential of the various product groups for the remaining countries, as determined by import growth and import market size. Filter 3 examines the accessibility of the remaining countries in terms of their different barriers to entry and degree of market concentration.  Filter 4 then categorises the final round of potential export markets according to the volume of South Africa's current exports going to these markets, and the latter's size, growth potential and accessibility.  Finally, by assigning a potential export value to each identified product-market combination, the shortlisted export opportunities can be prioritised according to various criteria, e.g. potential export value, market accessibility, etc. 
The TRADE-DSM®'s thoroughly-researched and highly scientific screening approach helps to take the guesswork out of export market selection, thereby paving the way for more focused and cost-effective export ventures.
TRADE Advisory offers an applied research service that involves identifying the most promising export opportunities for products and services emanating from particular sectors, provinces and countries, using the TRADE-DSM® methodology. 
Categories of services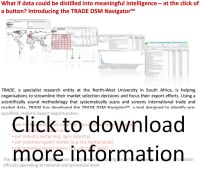 The TRADE research entity provides external services in the form of:
a) Ad hoc client-specific research;
b) International trade- and economic development-focused research; and
c) Tailored training in relation to the above.
Some recent activities in which TRADE has been involved include:
Training sessions:
Projects:
Department of Trade and Industry (the dti): 

Training of delegates from the dti on the TRADE-DSM® methodology and the TRADE-DSM Navigator® (February 2016).

North West Provincial Government Department of Finance, Economy and Enterprise Development (FEED): 

Compilation of a strategic report defining the potential role and contribution of the ACT (Agriculture, Culture and Tourism) industries in boosting provincial and local economic development.  

Department of Agriculture, Forestry and Fisheries (DAFF):

 

Development of a realistic export opportunity analysis report for agricultural products in the major group HS08 - Edible fruit and nuts, peel of citrus fruit or melons.

Organisation for Economic Co-operation and Development (OECD): 

Updating of the inventory of export restrictions on industrial raw materials. 

ABSA Wildlife project:

 Contribution to a book 'Game ranch profitability in South Africa' involving the provision of valuable information on the industry's structure, drivers, growth and profitability in the private game ranching segment. 

North West Provincial Government Department of Economic and Enterprise Development (DEED): 

Development of an integrated manufacturing strategy for the North West Province.

 

Agricultural Business Chamber (Agbiz):

 Development of a quarterly publication that provides advice to various stakeholders in the agricultural community on the impact of political risk in South Africa on their environment. 
Current users of the TRADE-DSM Navigator®
Department of Trade and Industry (the dti)

Botswana Investment and Trade Centre (BITC)

North West Development Corporation (NWDC)

Trade and Investment KwaZulu-Natal (TIKZN)
---
Research and commercial projects