We have a proven research footprint that stems from its rigorous research philosophy and publishing embedded in an ethos of quality and relevance.  Our focus is to produce high-impact publications, such as accredited conference papers book chapters and accredited journal articles, from PhD theses. We encourage research with a strong focus on business management that is relevant, actual and contributes to the wider academic mainstream. Our and highly experienced PhD supervisors and co-supervisors are sourced from within the School and from relevant industries to ensure that there is blending of theory and practice in the learning process.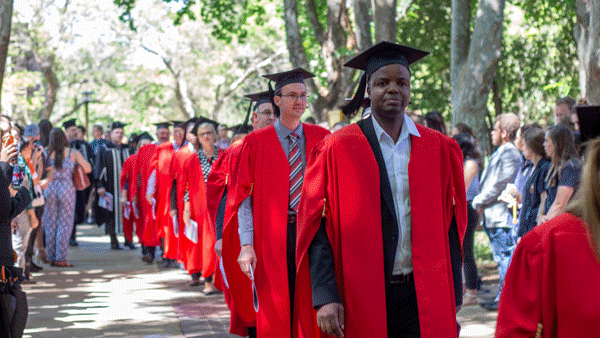 ---
Overview
Our research based PhD, a part-time programme, in Business Administration is offered at NQF level 10. Before selection, candidates should demonstrate:
Experience and enthusiasm
Research expertise
Control of and
Focus on the topic of study
The study itself should bear testimony to a relevant and clear research problem, exceptional research methodology, a definite academic contribution as well as a contribution to business solutions with a general focus on business management in Africa and, in particular, South Africa.
Our PhD in Business Administration programme follows a four-phase approach:
(a) a pre-doctoral workshop for conditional acceptance to the programme,
(b) a full proposal colloquium for unconditional admission into the programme,
(c) a methodology presentation colloquium, and
(d) results and findings colloquium and final thesis submission.
Admission requirements
The study programme must contribute to the research programme(s) of the University as determined by the different research focus areas/units.  All PhD students are required to submit at least one article in a Department of Higher Education and Training (DHET) accredited journal before graduation. In the case of an article format thesis, a minimum of three publishable articles should be presented, of which at least one must have been submitted and accepted by an editor of an accredited DHET journal for graduation. 
Applicants must further meet the following requirements:
The research ability of the student must be to the satisfaction of the school director and the director of the research area/unit;
Students whose abilities in research methods are deemed not to be adequate by the school director and research director, will only be accepted into a PhD programme after successfully completing the Faculty 's short course in research methodology.
 Successfully defended their full research proposals during a colloquium and are accepted by the school/faculty.
A student must have a SAQA-approved master's/ MBA degree or the status of a relevant and applicable master's degree as approved by the Faculty 's board and senate at NQF level 9;
The study field must be approved by the relevant school director and research unit director;
The student must at least pass the research component (Research module+Mini-/full Dissertation) of the above-mentioned master's degree with an average of at least 60%.
In case the candidate did a master's by dissertation only, the final mark of the dissertation must be above 60%.
Application process
Yearly applications dates are as follows:

1 September to 31 January with application deadline being 31 January and;
1 March to 31 August with application deadline being 31 August 
Our selection process is transparent and seeks exceptional research candidates who can contribute to the improvement of our research outputs andmake a theoretical and practical contribution to the field of business studies. We appoint the most relevant and highly qualified and experienced promoter and co-promoters to our admitted students who are sourced from within the Business School as well as from relevant industries so that there is a blending of theory and practice in the research and scholarly process.
Applicants should complete the formal PhD application documents for the PhD NWU Business School Administration officers. Please explain in two pages your intended study under the following 11  headings: 
1. Title
2. Introduction
3. Motivation of the study
4. Problem statement
5. Primary objective and secondary objectives
6. Preliminary literature (at least 10 leading scholars in your area of specialisation)
7. Research methodology
8. Ethical consideration
9. Contribution of the study
10. References
11. Work execution plan
Also please add (if possible)
Proposed name of promoter 
Proposed promoter signature
Apply Here
Selection process
Two pre-selection workshops are organised by the research office of the Business School as follows:
First selection workshop in March (held in Potchefstroom) for applications closing on 31 January and a
Second selection workshop in October (held in Mahikeng) for applications closing on 31 August  
Responsible parties during the selection process:
The NWU Business School Research Office is responsible for the collection of relevant application documents and corresponds with the admissions office for capturing on the M-drive.
The Research Office is responsible for liaising with the University's admissions office to capture the application on the VSF system where the candidate will be notified of the receipt of their application.
The Research Off ice is responsible for convening a meeting with all the School Research Committees (all cluster leaders and relevant academics from the Business School) for screening of applications if they met the minimum criteria (> 60% research component from their master's degree transcript) for admission into the programme.
The Research Office is responsible for the organisation of a final three-day
pre-selection workshop during which candidates who met the minimum requirements are granted equal opportunity to participate, and where they will undergo orientation and prepare to present their conditional selection proposal.
The Research Office will liaise with the admissions office regarding the final outcome of candidates for the conditional selection proposal.
The Research Office will further liaise with the admissions office once a student's full proposal is approved at the proposal colloquium within six months after conditional selection to allow students' registration on the PhD programme as per module DBAA971 (New)/MBAM 971 (Old).
The Research Office is responsible for collating information on the research completion as well as publication plans from all registered students.
The Research Office is responsible for assessing and collating information regarding students' progress every six months.
The Research Office is responsible for organising "writing retreats" that are meant to assist students to put together publications (book chapters, conference papers or journal articles) from their ongoing thesis work.
Important notices and fees
University administration will confirm all applications received. Incomplete applications will not be submitted onto the system until all outstanding documents have been received. 
For payable fees contact: 
E-mail: MC-studyfees@nwu.ac.za (Mahikeng) and PUK-studyfees@nwu.ac.za (Potchefstroom)
For financial support  services contact:
E-mail: PUK-PostgradBurs@nwu.ac.za (Potchefstroom)   
VC-PostGradBurs@nwu.ac.za (Vanderbijlpark)
MC-PostGradBurs@nwu.ac.za (Mahikeng)
or refer to our brochure for complete details:
Contact details for further enquiries
Potchefstroom & Vanderbijlpark
Tel: +27 18 299 4130
Tel: +27 18 285 2500
Mahikeng Campus
Tel: +27 18 389 2827
Research Manager
Tel: +27 18 389 2235