SENIOR REGISTRATION & CURRICULUM CONTROL
WHEN WHERE AND HOW:
Curriculum control (change in course) online sessions: 18, 23 February at 8:30am on our Facebook group
SEND YOUR REQUEST ONLY TO ONE FACULTY ADMINISTRATOR
If you want to change from course, you do not need to register now read more here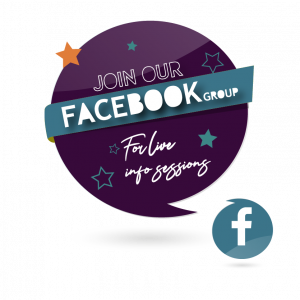 STEP BY STEP TO REGISTER:
1. Read and understand the registration process here
2. Carefully read through the instructions here
3. Make sure your financials are in order (see details below)
4. Verify your student record here (You do not need to submit this form to the Faculty administrator - it is for your own use when completing the curriculum control)
5. Online registration for senior/returning students will be extended to 26/02/2012
6. For curriculum changes, you can download your curriculum control form here

Important information regarding change in course and registration
Please register yourself, parents can not register for you

Online registration for senior/returning students will be extended to 26/02/2012

Please ensure that minimum fees have been paid (more information on minimum fees below).

You can add a maximum of six modules per semester, online allows two additional failed modules.

Steps in the process: A. Download your curriculum control document here B. Download your student record here c. Compare your student record with your curriculum control document, to see your outstanding subjects

Thereafter you have to register online here

NB you do not need to submit any documentation to the any Faculty administrators. 

If you have successfully registered, you will receive a proof of registration via e-mail 

Were you not allowed to add additional modules during web registration?  You can add module yourself between, DIY open from 16 and 25 February by visiting http://diyservices.nwu.ac.za/adds-and-drops-service

DIY approved: Student receives new registration certificate and eFundi is linked

DIY request rejected: Student receives an email with reason rejected

Please be patient, we handle very high volume inquiries, your request will be processed as soon as possible

Credits: UNIVPREP/other Institution: See administrative offer details below under the tab "are you still unsure?" 

You can not register online
Send an email to the administrative officer (see details at the bottom of the page at "are you still unsure") on the relevant campus, attach your results (Univprep / other institution).
Officer will grant credits and return the registration document to you.
Register (tick)  the modules as explained to you in the email, sign the document and return it to the officer
See the registration process: IMPORTANT!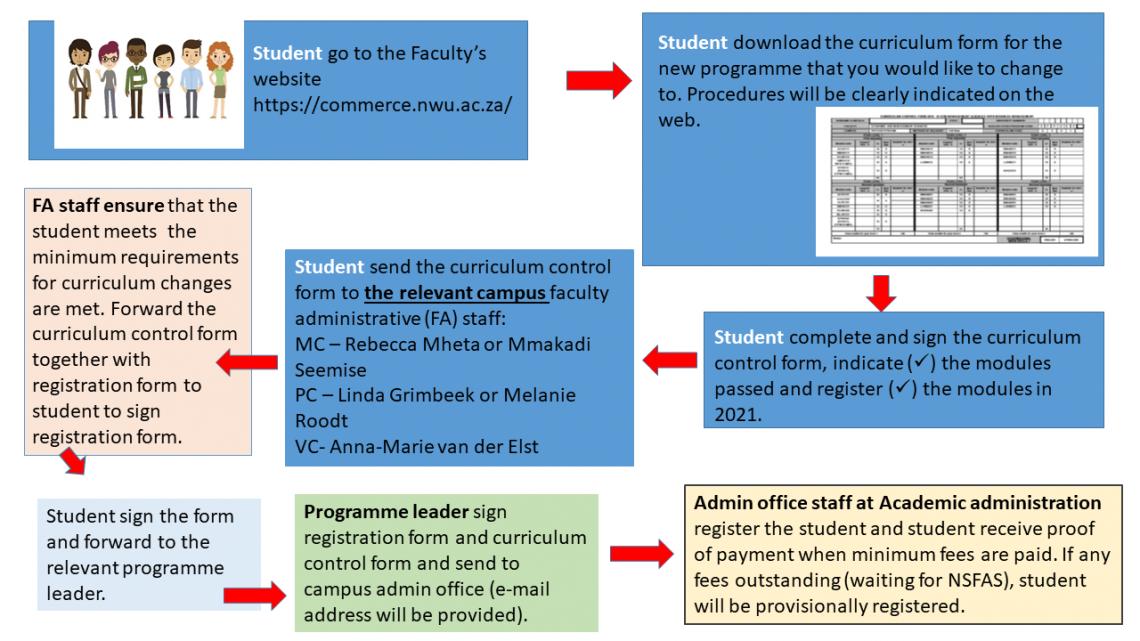 How to change your field of study (only from 15 February 2021)
Please ensure that you meet the minimum requirements put out for the degree here

Select the curriculum control document, which you will be able to download from 15 February 2021

Mark (√) all modules already passed.

Mark (√) new modules for registration 2021.

Complete ALL necessary areas, SAVE the signed the document and send it to the undergraduate administrator of your respective campus, see their details under the last tab, "are you still unsure?". The subject heading of this email MUST BE: STUDENT NUMBER//CURRICULUM CHANGES.

If not registered for 2021 yet, your registration document will be sent to you for signing before the qualification changes will be completed. 

The final registration certificate will be sent via email after completion of qualification changes.

Honours changes, student request form and submit to relevant programme leader.  If approved, admissions will send you a new registration document and you may then register online.
Important financial information
Are you still unsure?
Please only contact one administrator per inquiry, you do not need to cc all administrators.

Mahikeng
Undergraduate Faculty Administrator
Mmakadi Seemise
Email:
Senior Faculty Administrator
Rebecca Mheta
Email:

Potchefstroom
Undergraduate Faculty Administrator
Melanie Roodt
Email:
Senior Faculty Administrator
Linda Grimbeek
Email:

Vanderbijlpark
Undergraduate Faculty Administrator
Anna-Marie van der Elst
Email:
anna-marie.vanderelst@nwu.ac.za
Senior Faculty Administrator
Anna-Marie van der Elst
Email: